WHY WE CREATED THE SCWW PARTNERSHIP PROGRAM
Many older adults in our communities are socially isolated and unable to access in-person or online programs. Some are reluctant to meet face-to-face for health reasons. Others can't because of physical or mental health issues, financial constraints, transportation difficulties, or technological barriers.
Seniors' Centre Without Walls (SCWW) eliminates these barriers by offering free, telephone-based group programs that make it safe and easy for seniors to participate in interesting activities, meet new people, and make meaningful connections – all from the comfort of home.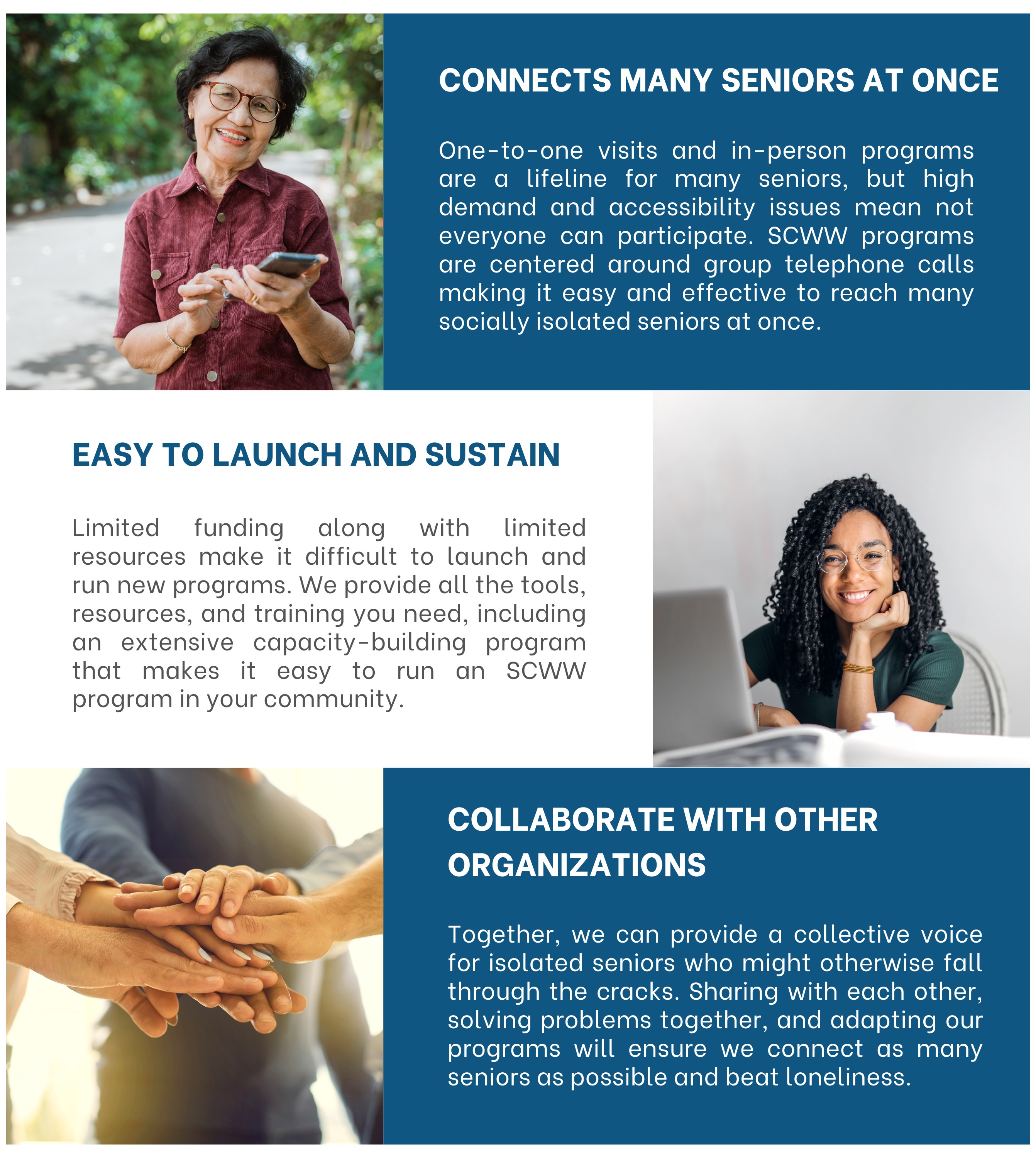 JOINING THE SCWW PARTNERSHIP PROGRAM GIVES YOU EXCLUSIVE ACCESS TO: 
Free teleconferencing services
Get free training and access to teleconferencing services for 3 years.
Personalized onboarding and training
Receive customized onboarding and training sessions that address the unique needs of your community and give you the tools you need to run and sustain a successful SCWW.
On-demand resources
Get instant access to our extensive database of materials that includes customizable templates, training materials, and best practice guides in multiple languages.
Interactive and engaging programs
Choose from a rich line up of engaging and effective educational courses, stimulating games, and other activities that can be easily customized to your organization.
Monthly program calendars
Every month, we publish a program calendar with four or more programs that we facilitate. These programs help our partners fill gaps in their calendars and assist with capacity issues.
Ongoing support
Your dedicated program coordinator will connect with you regularly for one-on-one coaching sessions and individualized support.
Networking opportunities
Join monthly workshops and professional development sessions to share your knowledge, learn from others, and work collaboratively to continually improve the program.
Capacity-building support
Access free networking sessions and hands-on support that help with various capacity-building initiatives such as applying for grants, finding corporate sponsors, fundraising in the community, organizing major events, and more.
THE RESULTS SPEAKS FOR THEMSELVES!
The SCWW Partnership Program has:
 Partnered with 70+ new organizations in Year 1
 Engaged 7K+ isolated seniors
 Delivered 15K+ sessions
WHAT PEOPLE ARE SAYING:
"Thank you so much for allowing us this opportunity to continue to support our seniors through these vital programs." 
"Thank you for the opportunity to partner with you to offer this wonderful program." 
"Thank you for the support of this program. It has certainly made a difference to a number of individuals in our community. Participants enjoy learning from the sessions and connecting with one another." 

LAUNCH YOUR OWN SENIORS' CENTRE WITHOUT WALLS QUICKLY AND EASILY THROUGH OUR PARTNERSHIP PROGRAM.