LGBTQ2+ Senior Inclusivity Education Session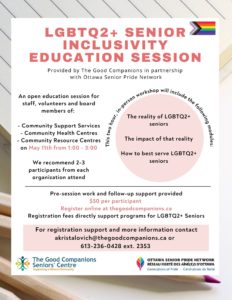 Help make your organization more inclusive of LGBTQ2+ Seniors!
An education session for staff, volunteers and board members of Community Support Services, Community Resource Centres and Community Health Centres organizations. The session will be on May 11th from 1:00-3:00 pm, in-person at The Good Companions, 670 Albert Street. We recommend 2-3 participants from each organization attend.
This two hour workshop will include the following modules:
The reality of LGBTQ2+ seniors
The impact of that reality
How to best serve LGBTQ2+ seniors
Pre-session work and follow-up support provided.
Registration fee is $50 per participant, see online registration and payment below. Registration fees directly support programs for LGBTQ2+ seniors.
Please direct any questions to akristalovich@thegoodcompanions.ca or 613-236-0428 ext. 2353.
Provided by The Good Companions in partnership with Ottawa Senior Pride Network.
LGBTQ2+ Senior Inclusivity Education Session