Transportation to Medical and Essential Appointments
Imagine having an important medical appointment and not being able to get there. The Good Companions – Community Support Services can offer drives to medical and other essential appointments for registered clients who are unable to use public transportation.
Please note: Clients must book at least 7 to 10 days in advance. This program depends on volunteer availability.
For more information, call 613-236-0428, extension 2235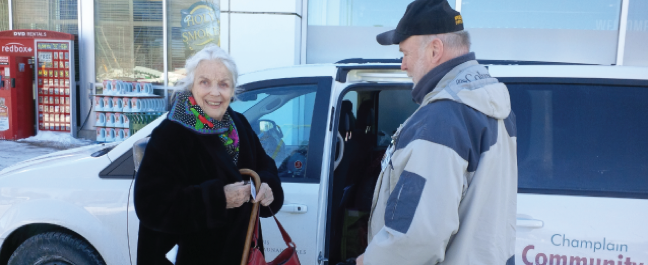 Are You Eligible?
Services are available to seniors 55+ and adults with physical disabilities who live north of the Queensway between Preston Street and Blair Road. If you live outside of this area, please check online at https://www.caredove.com/champlaincss to find which agency can help you in your home.
Clients must also be able to manage physically with minimal assistance. Our drivers are not able to provide weight-bearing support and are not permitted to lift or transfer you. This means that you should be able to climb safely in and out of a vehicle with some guidance or assistance from a driver (such as an arm for stability). Please note that a wheelchair cannot be transported. Our drivers are not equipped or trained to handle wheelchairs or to provide support for people who need help transferring in and out of vehicles.
Please note: services are provided with or without membership in The Good Companions.
All new clients must undergo a telephone and home visit assessment prior to receiving services in the home. Please call 613-236-0428 for more information.
Interested in Helping?
Volunteer Drivers, (own vehicle required), are needed! If you have 2-3 hours to spare per month, we need you between 9 a.m. and 4 p.m. Monday to Friday. If you are interested in becoming a Volunteer Driver, please submit our Volunteer Application form.
Note: Ottawa also offers other transportation options for people with disabilities. Para Transpo is a public transportation alternative for customers who are unable to take conventional transit (buses and O-Train) some or all of the time due to a disability. For more information on Para Transpo, please check out their website at http://www.octranspo.com/accessibility/para_transpo or call them at 613-741-4390.